Like most European cities, Paris is a family-friendly destination with almost all the attractions located near the city center. If you are wondering where to stay in Paris with kids, this is a guide that will help you decide. Although a very safe city, there are still some parts of it that are more convenient for families than the others, especially if you want to avoid public transportation.
Make your next family vacation a breeze
Travel with your kids now and build amazing memories as a family! Get our book, written by parents just like you, that will guide you all the way.
Marais (4th arrondissement)
When choosing where to stay in Paris with kids, start with Marais (4th arrondissement).
The 4th arrondissement is not just close to all the attractions, but it is also incredible for a family vacation. Beautiful Parisian streets are home to stores dedicated to children's clothing, toys, and amusement.
If you are up for shopping this is a place to find the most unique and high-quality things. On Sundays, most of the area is pedestrian-only, and you can walk around freely. Make sure you have a crepe in a café, visit parks and play with your kids outdoors.
Hotel de Nice
Staying in this hotel is like time travel. The renovated 19th-century building has kept its old charm and warm atmosphere. It is a short distance from the Louvre, Notre Dame, and Picasso Museum, located on the corner of rue de Rivoli and Bourg Tibourg.
The hotel has air-conditioned rooms, flat-screen TV, free WiFi, and spacious bathrooms. Although an old building, it is equipped with modern elevators and easy to navigate with strollers.
Website: https://www.hoteldenice.com/fr/
Hotel 9 Confidentiel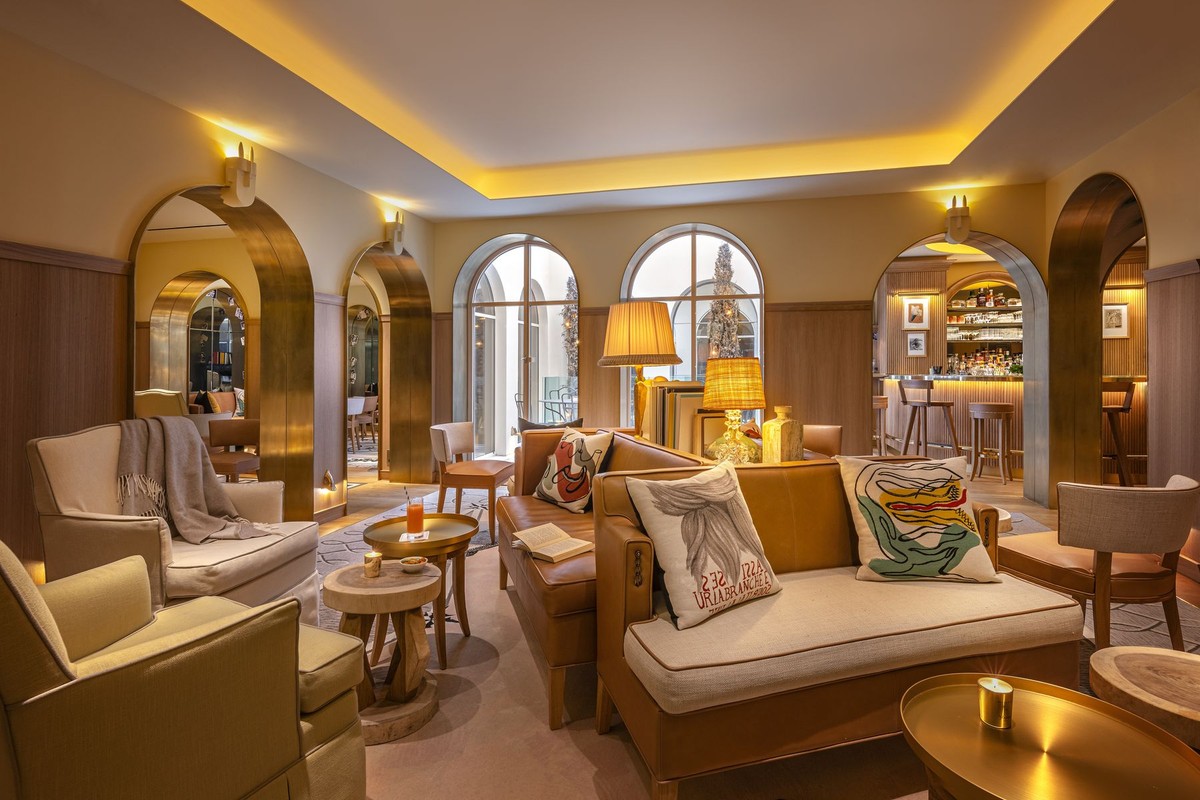 This is an elegant and modern 5-star hotel with great views of the Marais district. Designed by famous interior designer Philipe Starck this hotel offers a spa, breakfast buffet, a bar, and pastries by Yann Couvreur at tea time.
Hotel 9 Confidentiel is very much children-friendly, with free breakfast for kids under 3 years of age, and reduced-price breakfast for kids 3 – 12 years old. They also have amazing amenities for families, including a highchair, bottle warmer, baby cot, babysitting, and so much more.
Website: https://www.hotel-9confidentiel-paris.fr/en/
Hotel Duo
In this historic hotel built in the 1920s, you will get to enjoy gorgeous designer rooms, spacious suites, and concierge service. Located in the heart of Paris it is just a few minutes away from famous museums, Town Hall, and a river Seine.
When you go out for a walk with your little ones don't miss out on a nearby Stravinsky fountain, an incredibly colorful and interesting structure with different sculptures incorporated. In the same street, you will find several authentic cafes and souvenir shops.
Website: https://duo-paris.com/
Saint-Germain (6th arrondissement)
On the left bank of the Seine river, there is a district once favored by artists and writers, with chic shops, and popular cafes. It is home to the Latin Quarter, Luxembourg Gardens, and Saint-Germain-des-Prés quarter. If you haven't decided yet where to stay in Paris with kids, this might be the right place for you.
Most of the hotels have views of Notre Dame and the Louvre. When you walk outside of the hotel you will find yourself surrounded by classic Parisian streets, old bookshops, and art galleries. A stroll in Luxembourg Gardens can be a perfect start to every day on your holiday.
L'Hotel
History buffs will love the fact that this hotel was the last home of Oscar Wild. A boutique hotel with poetic French style and cute terraces is soaked in a bohemian atmosphere. All 20 rooms are luxurious, designed by incredible Jacques Garcia.
When you book a stay in this hotel the private hammam and steam room are included in the price. Get a babysitter and relax just a few steps from your room, while your babies are having an afternoon nap.
Website: https://www.l-hotel.com/
Hotel Des Marronniers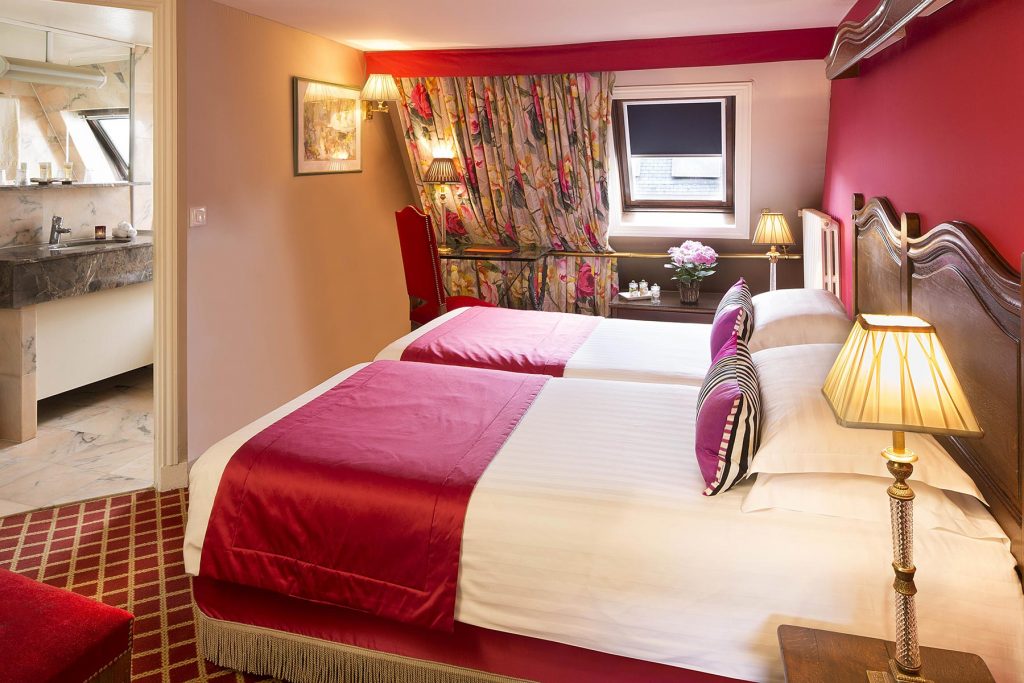 The hotel is in a great location and offers large rooms, a charming garden and tea room, and a particular experience like nowhere else. It is an oasis in a city center, a quiet and relaxing place where your family will have a great night's sleep and pleasant afternoons.
Breakfast is included and a great way to start your day before you go for a walk to Louvre, Eiffel Tower, or Champs Elysees. The shopping area near the hotel includes brands like Louis Vuitton, Sephora, and Christian Louboutin.
Website: https://www.hoteldesmarronniers.com/en/
Hotel Academie
Picturesque French-style rooms are all the elegance you need and expect when staying in Paris. There are so many amenities available. Hammam, bar and lounges, private drivers. Free WiFi, laundry service, 24-hours reception, and everything else you might need.
The hotel has family rooms with room service, air-conditioning, a welcome package, and a courtesy tray with hot drinks. Only a short walk from the hotel are Luxembourg Gardens, the Academy of Fine Arts, and The Orsay Museum.
Website: https://www.academiehotel.com/en/
1th arrondissement
This is the oldest part of the city and a historic heart of Paris, located on the right bank of the River Seine. It is the top location to stay at in Paris if you like easy access to landmarks and scenic views.
The majority of this area is occupied by Tuileries Gardens and the Louvre museum. It is also a place where the largest shopping mall in Paris is located, The Forum des Halles.
Hotel Nolinski
A peaceful hotel in a center of Paris just a few steps from the Louvre and Palais Royal Gardens. It is a luxury shelter with greenery and privacy, where you get the opportunity to try gastronomy miracles made by the Michelin-starred Chef Philip Chronopoulos.
Rue Saint-Honoré is only minutes away from the hotel and it is famous for fancy shops and museums. If shopping is not your priority, take your kids to Tuileries Gardens to enjoy fountains, and watch model sailboats.
Website: https://nolinskiparis.com/
Hotel L'Empire
If you prefer rooms that are a similar size to studio apartments, this is a place for you. Spacious rooms, authentic style, amenities like spa and room service, are just some of the reasons why this hotel in a city center is a great choice.
If you are arriving by plane, the hotel offers an affordable shuttle bus you can book in advance. Also, every room has free WiFi and a smartphone with unlimited calls. Pets are welcome, as well.
Website: https://www.lempire-paris.com/en/
Hotel Le Pardey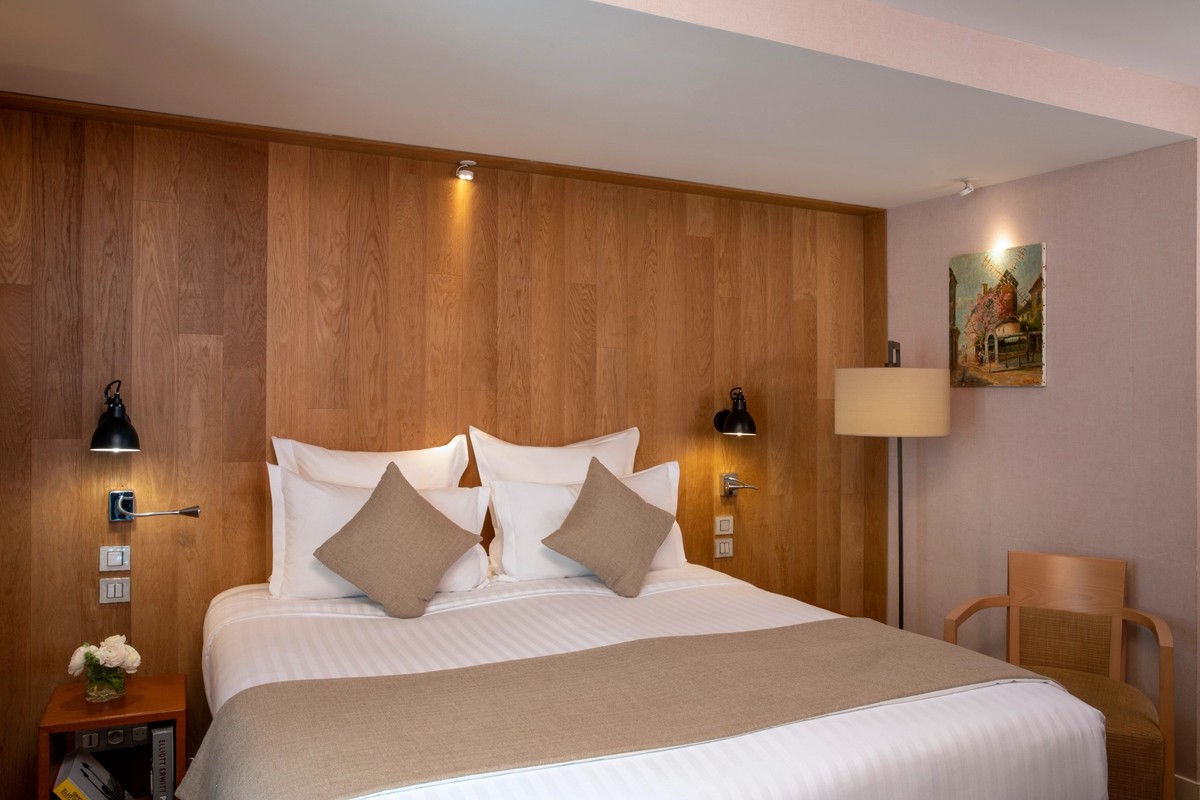 A stylish hotel close to every attraction is what you need if you want to relax and be in a hot spot at the same time. Breakfast in bed, a refreshing bar, and concierge services are among the offerings of this pretty little hotel.
An eminent café Angelina is in the same street as this hotel. Their world-famous hot chocolate is an attraction for itself and a must-try in Paris. For those who prefer macaroons, check out Ladurée which is within walking distance from the hotel.
Website: https://www.lepradey.com/en/
7th arrondissement
The neighborhood of Eiffel Tower is a preferable district for many first-time visitors. The closest attractions to hotels in this area are Napoleon's Tomb, Musée d'Orsay, Musée Rodin, and the Musée du Quai Branly.
Staying here with kids means you will be in a less crowded area where the aristocrats have been staying for centuries. Instagrammers will appreciate so many Eiffel Tower views, possibly even from your balcony.
Hotel De La Tour Eiffel
An affordable hotel that offers a typical Parisian breakfast in a nearby café, a 24-hour reception, a safety box, and free WiFi. This is a simple place where you will get a good night's sleep. And it's a place to chill and rest in between sightseeing tours.
This elegant district is perfect for long walks and visits to restaurants and traditional cafes. When staying here you can also visit the American Library in Paris or stop by Starbucks if you miss home.
Website: http://www.hotel-toureiffel.com/en
Hotel Juliana
The rooms of this 5-star hotel are a mix of modern design and art deco. This extravagant hotel has an exquisite breakfast room, a bar, and a lounge. You will see extraordinary details wherever you look, like sculptures, mirrors, designer furniture, and more.
They have a health club available with a fitness center and sauna. If you want to enjoy everything this hotel has to offer book babysitting services through your concierge and have some time just for yourself and your significant other.
Website: https://www.hoteljuliana.paris/en/
Hotel Du Cadran
It is a paradise for wine lovers, with a self-serving wine machine and a huge terrace you can enjoy at any time of the day. Staying here with kids means you will be in a great location with extraordinary services. And you can enjoy your tours as you planned with no hassle.
This is one of the rare city hotels that have a pool available. Your kiddos can play, swim, and have fun on a rainy day or if you just had enough of the city and want to stay inside.
Website: https://www.cadranhotel.com/
11th arrondissement
This is a place where Parisians actually live, with a lot of hip bars, gourmet restaurants, and small art galleries. To taste currently popular dishes check out small cafes with views of the street. Many students and younger people live here as it is more affordable than other areas close to the city center.
Visit Rue de Charonne for unique boutiques, charming restaurants, and small cafes. At the Place De La République, a metro station connects five different lines. From here, you can easily reach any part of Paris.
Hotel Le Pavillon Bastille
The amazing location with free parking makes this a go-to hotel if you are coming to Paris by car. A small meeting room, and free WiFi, make this a perfect place for those who have to check their work emails while on vacation.
Concierge services can book your excursions, transportation to the airport, a babysitter, or anything else you might need on your family holiday. A complimentary breakfast is just an extra plus this hotel has.
Website: https://www.pavillonbastille.com/en/
Hotel Voltaire Bastille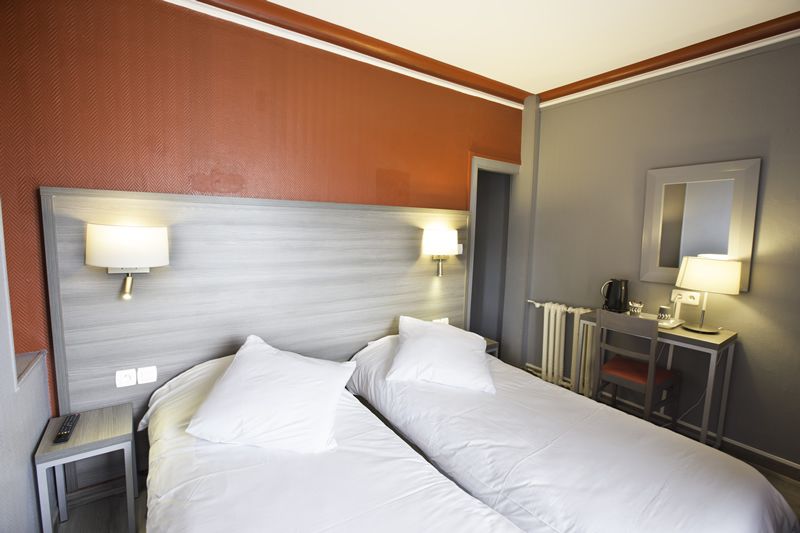 A metro station, shopping district, and many authentic restaurants in the area are the reason why you would choose this hotel over many others. Comfortable rooms with great facilities are ideal for families, and 24-hour reception will answer all your questions and help you with requests like warming up a bottle.
Rooms are soundproof which is great if you have small kids that need rest. The streets of Paris can be very busy and loud especially on weekdays, so having a quiet room is priceless.
Website: https://hotel-voltaire-bastille.hipotel.fr/en/
Hotel Bastille Speria
This hotel is located right on the Place de la Bastille, across from the Opera Bastille. Beautiful Canal Saint-Martin is minutes away, and here you can have a short walk with your children before heading to the city center for all the attractions.
The hotel has a business corner, a cute little lounge, breakfast in the room or a buffet, and 24-hour reception. Staying here with family is very convenient, with a shopping area nearby and all the metro lines connected to the rest of the city.
Website: https://www.hotel-bastille-speria.com/
Disneyland Paris
Many families visit Paris for only one reason, a trip to Disneyland. As the only Disney park in Europe, this is a truly popular family destination. It's a favorite to many family travelers.
The area surrounding the park is where the best family hotels in Paris are located. You can choose out of many hotels and resorts, and pick the best one that suits your family. The location of the park is in Chessy, a small town 20 miles from Paris and well connected to the capital of France.
Hotel Explorers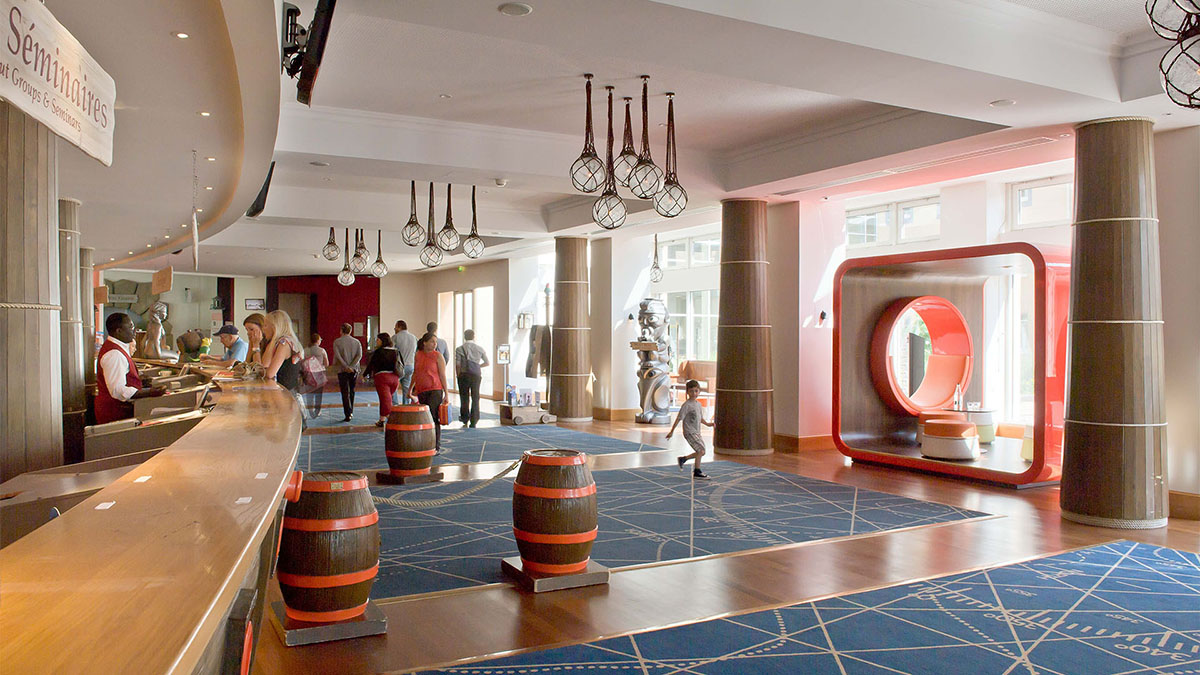 Hotel Explorers is one of the favorite stays for families visiting Euro Disney. This resort offers so many amazing activities for kids. There is a water playground, the dragon playground, a 6D cinema, Scally Wagg's Jungle Adventure, Sir Archibald's Ship, and so much more.
The adventurous playgrounds are situated indoors and outdoors, and you can choose at any time of the day where you want your kids to play. The restaurant and all the other hotel facilities are extremely family-friendly, and you won't regret staying here if you have little kids.
Website: https://www.explorershotels.com/en/
Disneyland Hotel
Disneyland hotel is the most convenient accommodation if you are planning on going to park every day. Staying in this hotel is like walking through a fairyland. You have so many opportunities to see Disney characters, enjoy entertainment, and get a world-famous Disney customer service.
Install the official Disney app to get the most recent information about events in the hotel and the park.
You can also buy packages that include stay and park tickets. Or if you have the annual pass you might want to check out what kind of package is suitable for you.
Website: https://www.disneylandparis.com/fr-fr/hotels/disneyland-hotel/
Radisson Blu Hotel
This is a more adult-oriented hotel but with excellent facilities and a delightful outdoor area with a park and restaurant. There is a free shuttle available every day of the week. It takes you to the park in just 7 minutes.
A beautiful garden with outdoor games and an indoor swimming pool are open year-round. Eat refreshing meals on the terrace, visit a spa or a golf course, if you want to spend a day at the hotel and relax.
Website: https://www.radissonhotels.com/en-us/hotels/radisson-blu-paris-marne-la-vallee
Conclusion
The only thing left is to choose where to stay in Paris with kids. Consider all the activities and attractions you want to visit before deciding on the part of the city. Sometimes convenience is more important than facilities, but Paris is not "one size fits all", so choose wisely and enjoy the City of Light.