Every family vacation has a common nightmare: narrowing down a destination to satisfy everybody's choice. But don't you worry this time! Eight to eighty – Asheville, NC is an open and exciting playground for all! This picturesque Southern mountain city nestled in the nook of the Blue Ridge Mountains boasts absolutely stunning scenery and a full-on boho vibe. Local to luxury, extravagant to earthy, homely to historic, you will find everything here. Here are some things to do with kids in Asheville which you will enjoy too!
With a flourishing community of artists and hipsters, the city's culture is both trendy and liberal. With food forming its central focus, you will be delighted with the diners and craft breweries and their deep relationship with nature around. For a dollop of experimental art, visit their River Art District. From seniors exploring the world-class golf courses to relaxing in numerous wellness spas to children having a whale of a time at both indoor and outdoor adventures, there will be new things to do with kids in Asheville every day, irrespective of their age.
Best Time to Visit Asheville, North Carolina
Are you a color fanatic like us? Then you will wildly enjoy the rainbow hues lighting up the landscape in both spring and fall. Asheville enjoys a wonderful spring with warm temperatures, partial cloud cover, and less humidity. May is the best month to catch blooming wildflowers and the gardens of Biltmore Estate in full glory. Come September, a crispy fall enters the scene with its vibrant color palette. The sky with its brilliant blue backdrop gives a breathtaking contrast to the flaming yellows and oranges. The temperature ranges between the upper 50s and mid-70s during March to May and September to early November making these great times to explore Asheville.
Summer comes with climbing mercury and humidity. Temperature surges in July, though late afternoon showers cool things off. If you wish to spend your time doing outdoor kids activities in Asheville, avoid August. It is the rainiest month. Winter months are mild, though it might get icy in February. The city hardly gets any snow, but as you go to higher altitudes, the density increases. But winter has its own perks. It comes with hefty discounted stays and many local music festivals. Biltmore Estate also decks up in winter fineries as it celebrates Christmas. In the upper reaches of the mountain, you can see some frozen waterfalls, nature's own unique ice formation. So for a budget holiday and a not-so-white winter break, you can definitely consider Asheville in December. Expect temperature between the mid-20s to 30s.
Where to Stay in Asheville, North Carolina with Kids
Downtown Asheville
Designing a holiday packed with kids' activities in Asheville means time will eventually become a luxury. So cut down on it by staying right at the throbbing center of all the hottest action of Asheville. With a mix of southern hospitality with plenty of hippie twist thrown in, you will find eclectic and well-appointed properties ranging from artistic boutique hotels to affordable B&Bs. For a stay with a character book at Haywood Park Hotel that was a former department store. The retro-clad mannequins will definitely draw your attention if not their spacious rooms. Located at stone's throw distance from all the attractions, breweries, arcades, and eateries, convenience will be at your fingertips always. The popular artist hub of River Art District is also just a mile away!
Black Mountain NC
If you are in Asheville to explore nature and want to stay clear of the city hubbub, you can consider this quiet historic neighborhood of Black Mountain. Only twenty minutes drive from Downtown, you can stay amidst mountains and greenery here. During fall, colors will come close to your windows. A nearby brook might break the silence ever so often. Besides being poetic, the location is also pocket-friendly. Stay at a historical property like The Monte Vista Boutique Hotel or a reasonably priced establishment like Hampton Inn. Their hospitality can be compared with any other popular hotel brand. Don't forget to plan a hiking trip to Pisgah National Forest. It's one of the top things for kids to do in Asheville and it is located just close by!
Biltmore
If you like living amongst the locals and looking for a stay steeped in history choose Biltmore over anything! It is not every day that you get to live in luxury like the Vanderbilts'. Biltmore Estate offers accommodation to match wallets of many sizes. You can choose a moderately priced Village Hotel or a four-star premium fix at The Inn on Biltmore Estate. If Estate accommodation is too pricey for you, you can stay in the nearby Biltmore Village. There are cutesy properties like The Residences or DoubleTree by Hilton.
Montford Area Historic District
Experience the community's warm southern culture and pride in their identity with a unique stay at the historic district of Montford. The neighborhood is lined with elegantly built historic houses converted to gorgeous beds and breakfasts sporting all modern amenities in a time capsule stay. From architectural splendors dating back to 1899 to romantic and luxurious escapes to a waterfall and garden retreat, your stay here will be anything but forgetful. And the cherry on top is their gourmet breakfasts which are hardy and filling so that you can start your day on a nutritional note, worry-free!
How to get around Asheville, North Carolina with Kids
Walk the Talk
Asheville is touted to be the second most walkable city in North Carolina. With all-year-round mild weather, walking here is an absolute pleasure. If you want to set your own pace, there are a few pedestrian-friendly spots Downtown where you will find renowned restaurants and boutique shops. Soak in the city's chirpy energy by checking out quirky street graffiti and or match the beats with musicians performing in the open air.
Hop-on hop-off with Asheville Trolley Tour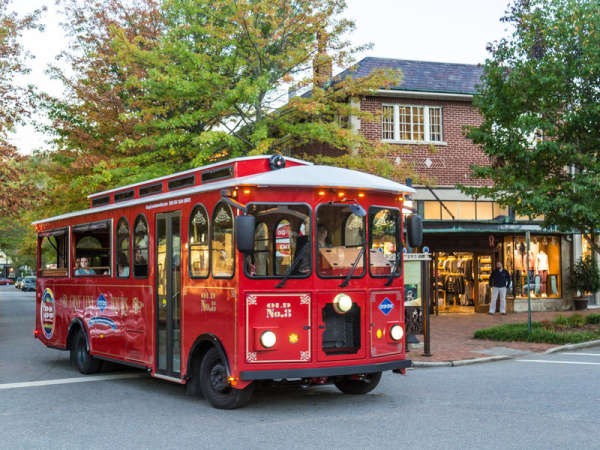 Wondering how you can kill two birds with one stone? Well, make the transport an innovative experience in itself! Navigate the city aboard a vintage trolley. You will get to visit all the city highlights like Omni Grove Park Inn, the art deco architecture of the Downtown, Biltmore Village, and learn about their significance in the city's history. The tour includes a full narration that makes it one of the coolest experiences for your kids. They can see and learn together. You can discontinue and resume the ride at any spot you want.
Choose to land at the Asheville Regional Airport
For parents with kids who want a quick transfer to the city, we suggest opting for Asheville Regional Airport that is only 15 miles away from Downtown. The airport is well connected with 60+ daily flights to and from 20+ major US cities. It is used by airlines like Delta, United, Allegiant, American, etc. You can easily find rideshares and rentals parked just outside of the airport to make your travel to the city easy peasy. If you are on a budget, they also have a bus service that can take you Downtown for a dollar.
Rent a car or self-drive
With ribbon roads snaking through the curves of the Blue Ridge Mountains, don't miss out on all the drama by not driving through this iconic scenic road. What makes driving down to this southeastern Mountain city easy and accessible is its connection to interstates like I-26, I-40, I-240, and highways like U.S. 19/23, 25, 25A, 70, and 74. You can just rent a car in the city at your convenience too. Parking inside the city is not that difficult with an abundant number of parking lots available. Additionally, you can pay the parking fees by phone by downloading their parking meter app.
How Much Time to Stay in Asheville, North Carolina with Kids
With a plethora of kids' activities in Asheville and in its surrounding towns and outdoors, it is difficult to cover everything at one go. We suggest you plan for a break of 2-3 days or devote a long weekend to enjoy the city at an unhurried pace. Nobody wants a tired toddler throwing tantrums through the day! Plan a day with city sightseeing and dining experiences at Downtown eateries and then drop by at the edgy art scene of River Art District. Assign another day for hiking the beautiful forests and mountains followed by a museum or a zoo visit to deepen your kid's curiosity. Reserve a good half-day for Biltmore and another half to rest and rejuvenate!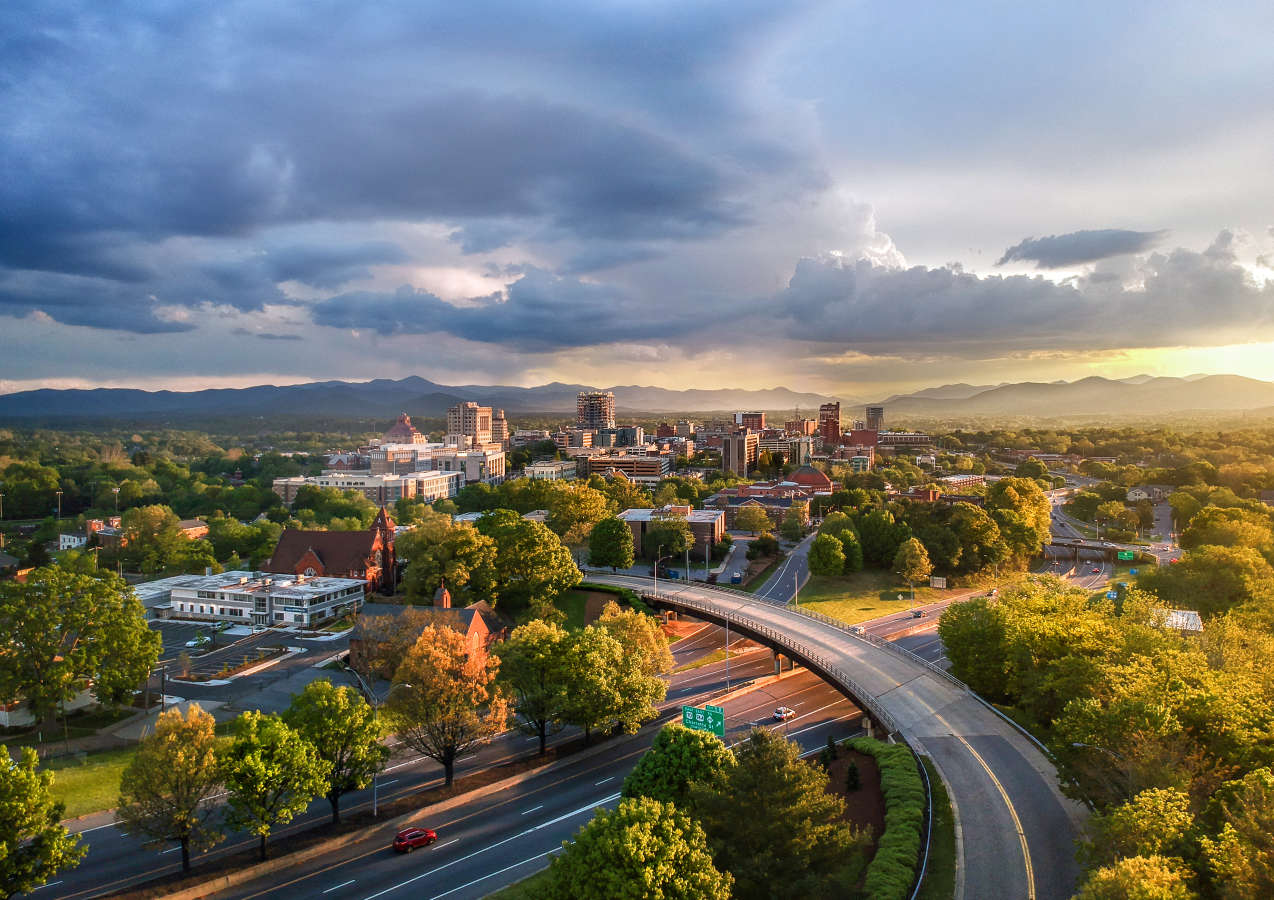 Things To Do in Asheville, North Carolina With Kids
Biltmore Estate (Junior's Edition)
Fairytale fan or not, your child's imagination will get stoked with a visit to this French Renaissance-style chateau. It is a must-visit amongst all the things to do with kids in Asheville. Give them the castle feels we say! You might be a little worried by the size and the expanse but don't. Biltmore Estate allows strollers (keep it light and compact) on the first two floors. For the third and the basement, fold it up and use a baby carrier instead. The same goes for those beautiful grounds and the walking trails. If you have school-going kids, get their Kid's Audio Guide to Biltmore House. It is a fun narration by Cedric, the Vanderbilts' Saint Bernard.
After you are done exploring the mansion, scoot over to Antler Hill Village to let the kids out and about their Pisgah Playground. Visit the petting zoo to meet and greet all the furry and feathery friends of the Estate. Reserve at least three hours for all the activities to do them at a leisurely pace. Biltmore Estate has plenty of themed restaurants that are family-friendly with kid-focused menus and high chairs. Dropping by the winery for a wine tasting later? They also offer complimentary glasses of grape juice to the junior. Gift your child a historical yet magical day!
Website: https://www.biltmore.com/
Address: 1 Lodge St, Asheville, NC 28803, United States
Hours: Mon-Sun - 9 am – 5 pm
Cost: Adults - $64 (when purchased online);
      Half the price for children ages 10-16, kids 9 and under are free. 
      Ticket prices might vary with the season.
Asheville Pinball Museum
The one thing that Stranger Things, the Netflix series, widely showcased with its second season was how much we are missing out on the quaint 80s arcade experience. Well, that's the case no more! Introduce your alpha gen kids to these vintage wonders with a museum full of 50 pinball machines and other video games from the 1970s and 80s. Yes, that means Pacman, centipede, dig-dug, and old-school Nintendo games, and YOU CAN PLAY THEM ALL here.
This place resembles a tiny time travel capsule crammed with period-appropriate memorabilia, a jukebox, and movie posters from the 80s. This playable museum has been a top draw on our list. You might think it will appeal only to the nostalgia of the older generation. But you are wrong. The younger ones are also finding it fun. Give a slice of life experience to your kids of what other children from earlier generations played in their childhood. It'll definitely make them all energetic and involved. Visit their in-house bar for light snacks and a good beer selection.
Website: https://pinball.ashevillepinball.com/
Address: 1 Battle Square, Suite 1B. Asheville, NC 28801
Hours: Monday – 1pm – 6pm
       Closed On Tuesdays For Repairs.
       Wednesday, Thursday & Friday - 2pm – 9pm
       Saturday - Noon – 9 pm
       Sunday – 1pm – 6pm
Cost: Adults - $15, Children 10 & UNDER - $12
Asheville Museum of Science
Science is best learned hands-on! And if it has got something to do with the place that you are vacationing in with your family, your kids will feel more connected to the land, its climate, ecology, and biodiversity. And AMOS does exactly that with its state-of-art interactive exhibits. Whether it is their hurricane stimulator where children can discover how a storm is built or the rocks and minerals exhibit that gives them an idea of what exactly planet Earth is made of, their curiosity will be answered with the museum's expansive array of experiential opportunities.
The museum is small and it offers an intimate experience to young kids. With experienced and patient staff, your kids will embark on a joyous journey of exploration. Introduce them to the Southern Appalachian Forest with their 'bird's nest', without which any kids activities in Asheville remain incomplete. Do they love dinosaurs? Say hello to T-Rex's great-great-grandfather (thought to be), the replica of a Teratophoneus Curriei fossil. If you have preschoolers, join their Little Explorers Club that organizes themed activities every 2nd and 4th Friday of every month.
 Website: https://ashevillescience.org/
Address: 43 Patton Ave., Asheville, NC 28801
Hours: Sunday:  1pm-5pm
       Monday: 10am-5pm
       Tuesday: CLOSED
       Wednesday: 10am-4pm
       Thursday:  11am-5pm
       Friday: 10am-5pm
       Saturday: 10am-5pm
Cost: Adult: $8
Children (3-18yrs) | Military | Senior (60+) | Student (w/ID): $7
Children 2 & under are always FREE
Blue Ridge Parkway Drive
Road tripping with toddlers is not exactly an activity that should feature in things for kids to do in Asheville, or so you might think. But wait! Don't discard America's favorite drive just yet. With a little planning and preparation, you might give your child an opportunity to savor nature at its best. This scenic drive is popular during the fall season with leaves turning colors and the looming mountains creating a perfect backdrop.
We suggest you pack a picnic lunch from any Downtown cafe in Asheville. Decide whether you want to go North or South. Make a list of mileposts you want to explore because each is laden with its own exclusive offerings. GPS might get wonky once you reach higher elevation, so save a list of must-visit mileposts on your phone. Pick an overlook or a mountain top and pop open your picnic basket. We propose Mt. Pisgah located amidst Pisgah National Forest. You can opt for a short hike here as well and enjoy panoramic views of the famous Cold Mountain from the Pisgah Inn Restaurant observation deck. The parkway doesn't have any gas station, so don't forget to fill up your tank before the drive.
Website: https://www.blueridgeparkway.org/
Access Points from Asheville: 
Milepost 382.6
Milepost 384.7
Milepost 388.8
Milepost 393.6
Hours: Open 24 hours. Check road closures during the winter months
Cost: FREE
Hiking at Chimney Rock State Park
For energy hyper kids, parents are always on the lookout to level their active outpour with kiddie activities. We recommend you give this a twist of adventure, education, and nature and plug in a bit of a 'nature workout' in the form of light hiking with them. If you are searching for similar things to do with kids in Asheville, experiencing this trail track in Chimney Rock State Park is something you must do.
There is a tonne of kid-friendly activities to do in the park. Pick up any brochure, like Nature's Hide and Seek or Finding Ferns, and explore a 0.6 mile Great Woodland Adventure Trail looking for native plants or wildlife. Your little Indiana Jones in the making will find many inspirations on the way. Go to Chimney Rock Formation Viewpoint by climbing in an elevator built inside a mountain. If your kids are of school-going age, you can opt for little more tedious hikes like the Hickory Nut Falls Trail. Top off your visit with a stop at Animal Discovery Den to check out the local wildlife and the butterfly garden.
Website: https://www.kidsinparks.com/chimney-rock-state-park
Address: Chimney Rock, NC 28720, United States
Hours: Mon-Sun – 8:30 am to 5:30 pm
Cost: A single-day ticket is $17 per adult and $8 per youth (ages 5-15). Children under 5 are free.
Foraging with No taste Like Home
Are you ready for a tasty treasure hunt with your adorable tykes in the outdoors? Join the experienced foragers on this real-life scavenger hunt as you walk through the farms and fields of Asheville picking up edibles growing in the wild. Know which mushrooms are safe to eat and which berries make delicious salads. After the tour, the guides will pack your findings for you which you can then take to a local restaurant that will transform them into scrumptious dishes. Sometimes even the guide rustles up an appetizer just after a tour is completed.
The tours are family-friendly and are enjoyed by children of all ages. You can customize them according to your preference. The glorious Appalachian produce coupled with exploration and education makes it a highly recommended experience. Even fidgety kids will pay attention to the engaging style of the guides and be proud to be part of Asheville's true culinary food scene.
Website: https://notastelikehome.org/
Hours: Mon-Sun – 9 am – 5 pm
Cost: Various. A Wild Food Stroll starts from $40.
Mountain Play Lodge
After a horde of outdoor activities in Asheville, are you craving some quiet downtime? Planning a low activity day around your kids on a family vacation is a challenge most parents dread to face. But with Mountain Play Lodge you can dispel all your worries. Book a playtime for your kids (age 12 and below) at this indoor play area located in Arden, just south of the city. With a safe, clean, and completely contained environment, Mountain Play Lodge easily ranks top in the things for kids to do in Asheville.
This indoor play area sports a miniature Biltmore village and a jungle gym, complete with slides and other climbing structures. The kids can go exploring by themselves as the floors are padded saving them from untoward incidents. Adults can sit nearby at the cafe and relax with an adult beverage and some light snacks as they keep an eye on their kids. Did you ever think you could artfully balance kiddo time and me-time so efficiently? We bet not!
Website: https://www.mountainplaylodge.com/
Hours: Monday-Thursday: 10am-5pm
       Friday-Sunday: 10am-6pm
Cost: Kids 3-12: $14 (weekend), $12 (weekday)
      Kids 2 and below: $10 (weekend), $8 (weekday)
      Adults: Free
Things to Eat in Asheville, North Carolina
Chase chocolates with French Broad Chocolates Lounge & Factory
Of all the things to do with kids in Asheville, this will require no extra coaxing or cajoling. With a mention of the C-word and the delicious dream of devouring chocolates, the kids will come running in no time! Championing the concept of beans-to-bar, this lovely chocolate lounge located in an attractive building in Downtown Asheville is a heaven for dessert lovers. Artisanal chocolate holds the center stage here with a supporting cast of other locally sourced ingredients. From piping hot chocolate drinks to moist cakes, liquid truffles, and delectable pastries, you will get everything here to indulge your sweet tooth.
Coffee and treats at Double D's
What can be more eccentric than having an afternoon pick-me-up aboard a red vintage double-decker bus? The fun experience of an iconic Asheville cafe paired with their second-level seating makes this an enjoyable family experience. Their yummy milkshakes will keep the kids riveted while you and your partner try their lavender honey latte, chai tea, or red hot chili mocha. Besides all things coffee, their dessert collection is a treat in itself. Bite into a scrumptious strawberry crumble or caramel-covered ice cream sundae. They have plenty of seating in the courtyard if you want to opt for a seat outside.
Beer crawl in the craft breweries
You have stepped into the 'Beer City USA', so don't commit the sin of missing out on a brewery hopping for anything! Just because beer-chugging doesn't feature in any kids' activities in Asheville doesn't mean you have to sacrifice this sensational experience. Numerous kid-friendly breweries dot the city where children of any age are welcomed warmly. Take for instance Highland Brewing Company. They have root beer on tap for the little ones to try and plenty of open spaces for them to run about. Asheville Pizza and Brewing Company located Downtown has a covered outside seating area and a dedicated game room where kids can play baggo.
Appalachian cuisine or mountain food
The best thing about this mountain town is that not only do you get to gorge on gorgeous views with your eyes but the gourmets can get a taste of the mountains on their palette too! Dishes devised from heirloom preservation techniques and traditional recipes find their place in the modern dining spread. We already know of wild ingredients when we went foraging but their contemporary interpretation in a hearty meal is an equally soulful experience. Award-winning chefs conjure up addictive foothill cuisines. Try their famous restaurants like Rhubarb or gobble up some Spanish tapas at Curate for your share of mountain magic.
Planty Plates
For a less meaty day, plan a few meals around some astonishingly great vegetarian and vegan cuisine that Asheville has to offer. Gifted with a generous amount of local population that rigorously celebrate a plant-based diet, the city has no dearth of both upscale joints and reasonable restaurants whipping up some appetizing green dishes. Ingredients are grown locally and are sustainably sourced. Check out Plant and Laughing Seed, both of which serve fabulous and creative vegan food. Integrate a vegan meal in your list of things for kids to do in Asheville and burst the myth that veggies cannot be tasty!
Conclusion
When we think of a mountain escape, only outdoor activities come to our mind, like hiking in summer or skiing in winter. But Asheville is a surprise package. It is rare to see a mountain town replete with activities of all kinds that will entice a child – indoor and outdoor, imaginative and physical, adventurous and creative!
Crammed with a range of things to do with kids in Asheville that one can't even imagine, you will never run short of ideas to keep your little ones occupied and learning too. As they say, you can never go wrong with Asheville, NC. For your next stress-free and successful family getaway, choose this charming Southern city in the lap of nature.