Traveling with kids is a great experience. But instead of sticking to the same tried and true places that everyone else visits, why not look one of the many for a non-touristy destinations hidden around the world? There's a lot to be said for traveling off the beaten path. Not only do you have fewer crowds to contend with, but for the most part, everything is cheaper; from food to accommodations to transportation and activities. Going to non-touristy destinations not only means that your family will have the chance to experience the core of authenticity from a place somewhat off the radar; it will also help alleviate over-exploitation of popular tourist destinations.
Make your next family vacation a breeze
Travel with your kids now and build amazing memories as a family! Get our book, written by parents just like you, that will guide you all the way.
Of course, it goes without saying that when you are traveling with small children, you want to be sure that the places you're visiting are toddler-friendly. Safety is a key factor, so be sure to do your research before making your plans.
To give you a head start, below is a list of twelve of the best non-touristy destinations for travel that are ideal for toddlers.
1. Bergen, Norway
Although Bergen is breathtaking in its appearance, it remains one of the best non-touristy destinations of Scandinavia. It remains largely untouched by the crowds and problems that come with over-tourism. Its picturesque coastal skyline is sure to delight your little ones, especially when they discover that it served as the inspiration for a town in Frozen. One of the things that make this city so spectacular is that it is located in the middle of the fjord country. It provides a naturally magical backdrop to the pristine streets and colorful buildings.
Your kids will get great delight in taking the funicular ride up Mount Floyen. It has a nice playground at the top to keep them entertained while you soak in the view of the city below. Another must-see is the Troll Forest, it offers easy-to-walk paths leading to wonderful carvings and sculptures of the legendary beings. There's also a spectacular park with gorgeous fountains that works well for letting them run around. The aquarium home to penguins, crocodiles and plenty of fish.
Where to Stay
The Scandic Byparken: This clean, spacious hotel is ideal for traveling families, as it boasts plenty of room and even gives kids a welcome gift when you check-in! It's reasonably priced and located near the harbor. But if you're feeling particularly active, you can even borrow their bikes to pedal around town. Be sure to partake in the breakfast buffet offered by the hotel. It's widely believed to be one of the best in town.
Where to Eat
The Bergen Fish Market: This is an incredible experience for kids, as they get the chance to wander through a sea of fresh fish and seafood vendors. Not only is there plenty of visual stimulation here to keep them busy, but you can actually handpick your seafood and have it cooked on the spot before sitting down to enjoy the meal.
2. Brussels, Belgium
This capital city of Belgium is well known for its architecture and plentiful shops and café, as well as for being home to the headquarters of the European Union. It's a city with a lively air, and while there's still a definite element of refinement present, the vibe here is very safe and extremely kid friendly. As a bonus, this place is one of the most non-touristy destinations within largely visited Western Europe. This means you don't have to worry about battling through crowds. You can easily make a day simply strolling through the beautiful cobblestone streets, but perhaps one of the most impressive sights is the Grand Place, dating back to the 17th century. This is largely considered to be one of the prettiest public squares in all of Europe, particularly at night when it's all lit up.
Your kids will no doubt get a giggle out of seeing the famous bronze statue of a little boy peeing on the sidewalk, but if you're looking for something a little more intellectually stimulating, visit the Museum of Cocoa and Chocolate for an experience that's both educational and tasty. You can visit mini-replicas of some of Europe's most famous landmarks, like the Eiffel Tower and Leaning Tower of Pisa at the aptly named Mini-Europe, or take a day to cool off and splash around at Oceade – a waterpark with multiple slides for all ages and a wave pool.
Where to Stay
Hotel Amigo: Beautifully understated with large, comfortable rooms that can easily accommodate a family of five, there are many special touches here that make the stay unique, including the mosaics in the bathrooms. There are babysitting services available if you want a night out by yourselves, and the room stays even include tickets to some of the nearby museums.
Where to Eat
Chez Leon: While the name sounds fancy, this is a great option for people of all ages. There's a varied Belgian menu with plentiful options and a number of selections for children to choose from as well. As a bonus, kids under the age of twelve eat here for free! They also offer parking spots for strollers.
3. Copenhagen, Denmark
It's hard to find a country that's more kid and toddler-friendly than Denmark. This place has a wonderful way of creating a welcoming environment for children just about everywhere you go. The capital city, Copenhagen, is not only extremely safe and meticulously clean. It has a number of attractions aimed at small children. This city is quite popular with visitors, but still remains as one of the most non-touristy destinations because of the heavy traditional Scandinavian culture and atmosphere For example, the Children's Museum, a zoo, and an impressive aquarium. This city is home to Tivoli Gardens, an amusement park that's said to have inspired Walt Disney to create the theme park! Besides the ride and games to play here, Tivoli is also well-known for its festive holiday displays. They include pumpkins at Halloween and beautiful lights and trees during Christmas.
You can catch a theatre show or check out the wildlife at the Baaken Deer Park; the city's oldest amusement park. Copenhagen is a wonderful city to explore via the water, and you can easily do so with a boat canal tour. They go right past nearly all of Copenhagen's best attractions and work on a hop-on/hop-off system. Perfect for fitting a lot of activity into a short amount of time.! Plus, every kid loves the thrill of being on a boat. If your kids are Disney movie fans, be sure to check out the Little Mermaid statue on the waterfront.
Where to Stay
Tivoli Hotel: With its colorful carnival-inspired theme, the magic of this reasonably priced place is delightful for any child. There's an indoor heated pool that can be enjoyed at any time during the year. It's also equipped with color-changing lights, a waterfall, and a ceiling that mimics the twinkling of the night sky. Their plentiful breakfast buffet is served seven days a week. You can let your kids loose in the indoor or outdoor playroom, and there's a beautiful garden with gentle walking trails available for guests as well.
Where to Eat
Pirateriet: When else will your kids have the chance to eat on a pirate ship? This place captures the imagination from the moment they walk through the door. They'll be greeted by a waxwork pirate and given a complimentary eye patch and paper pirate. Your kids also have access to a wide array of dress-up clothes, so they can fully get into the spirit. The kid's menu offers dishes with complimentary crispy potatoes, veggie sticks, and dessert. Mom and dad can choose from a selection of beer and wine, and dishes like fried calamari and a juicy captain's steak.
4. Hamburg, Germany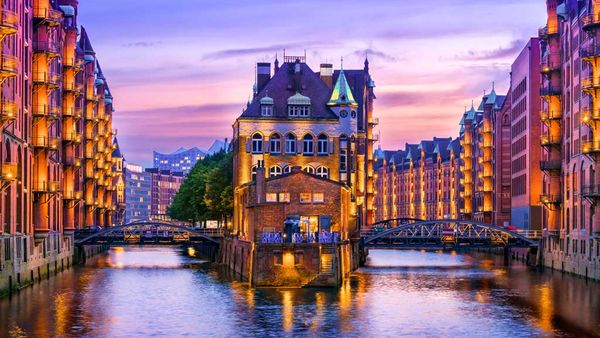 Located in Northern Germany, this city is known for its beautiful port area and clean, safe streets. There's a beautiful lake in the center of the city, surrounded by gorgeous architecture and numerous cafes. Hamburg has plenty of places to visit that will keep both you and your little ones enthralled. During the warmer months, you can visit any one of Hamburg's beautiful parks. Many offer wonderful playground equipment with plenty of space to run around. One absolute must-see is Miniatur Wunderland. Here you'll find the largest model railway and airport in the entire world. There is a lot to see here, as the display is divided into nine different sections. You may want to arrive early to avoid being caught in long lines. There is an impressive wax museum allowing children to explore the journey of German emigrants. Additionally, there's a zoo that boasts no cages! It allows you to get up close and personal with the animals, separated only by a moat.
Where to Stay
The Prizeotel Hotel: This trendy yet still family friendly hotel offers stylish, clean rooms at a very reasonable price. You and your family can enjoy some of the kid-centric activities, and dine in their excellent on-site restaurant. In the morning, be sure to partake in the complimentary breakfast, which offers a cost-effective and delicious way to start the day.
Where to Eat
Brauhaus Joh. Albrecht: This place considers itself an old inn, and indeed, the vibe here is very homey, friendly and warm. Offering cheerful, prompt service and an extensive menu, the potato soup with bacon is quite popular amongst kids and adults. But be sure to save room for one of their decadent desserts – especially the apple strudel and fruits of the forest paired with chocolate cream.
6. Lough Gur, Ireland
Of course, Ireland has plenty of things to see and do, from taking in the spectacular views to exploring ruins and medieval castles. But did you know that this is one of the most toddler-friendly non-touristy countries? No one will bat an eye if you come to the pub for lunch with a baby on your hip. One of the best places in Ireland to visit is Lough Gur, one of the country's most spectacular spots.
The beat thing about non-touristy destinations like this one is that you never really know what to expect. Located in Limerick County, a horseshoe-shaped lake runs between the towns of Bruff and Herbertstown. It is a shallow lake with fascinating folklore. I's rumored to be the home of a man once banished by Goddess Aine. It's a site of incredible archeological importance. There are plenty of castle ruins, as well as the country's largest stone circle to explore. This is a great spot to let your kids' imagination run wild, as the atmosphere easily lends itself to fairy-tale like magic. In fact, local lore even states that this place is the entrance to the land of the fairies. The visitor's center has a number of interactive displays to delight your children's senses, with plenty of scenic trails. There's even a donkey sanctuary nearby!
Where to Stay
The Old Bank B&B: Located in Bruff, the rooms here are great, but what really makes this place shine is its excellent customer service. They will happily help accommodate your family's needs to their absolute best ability, from helping with travel arrangements to anything else at all. Be sure to indulge in the impressive breakfast served here each morning, as it's a great start to any day.
Where to Eat
Brew Bros: Also located in Limerick, this festive pub has a number of options for entertaining kids. For example, a blackboard for scribbling, books, and other kids activities. The staff is laid-back and friendly, and there's plenty of delicious menu options. The full Irish breakfast in the mornings or fresh fried fish and chips for lunch or dinner are incredible.
7. Ljubljana, Slovenia
Anytime you're traveling with a toddler, the key words are patience and flexibility. You need to be able to adapt to your child's changing moods, so it's vital to be able to change your plans if something comes up. This is why rigid tour schedules are rarely a good idea for small children. Slovenia is a small, beautiful and one of the most ideal non-touristy destinations for visiting with kids because it can be navigated within a day. This means that you can decide what you want to see and do, and do it at your (and your child's) own pace. Ljubljana has a stunning canal running through it that's great for scenic walks. It also has a bridge that is supposedly guarded by dragons, along with a wonderful zoo and amusement park. There's even a public living room that boasts everything from crafts and puppet shows to storytimes. What better place to give your kid a safe spot to explore and play on a drop-in basis?
A mere forty-minute drive away is the Postojna Caves, home to incredible underground formations that are easily seen by walking. The path is friendly to strollers and little legs alike, and your kids will take delight in hopping on the train that winds through the caverns. They'll also be able to catch a glimpse of olms, rumored to in fact be baby dragons! For more about this incredible natural wonder, be sure to see our article detailing our own visit to the caves: Postojna Caves
Where to Stay
Grand Hotel Union: Located in the very heart of the city, this family-friendly hotel strikes a perfect balance between honoring the past and embracing the future. The beautiful architecture is complemented by modern amenities and friendly staff. The rooms are comfortable and easily sleep a family of four. In addition, there's a breakfast buffet available which includes a nice mix of Slovenian staples along with English and American fare.
Where to Eat
Copomana: Well-known for its deliciously sweet selections, this is a great spot to stop and break up a day of sightseeing. In the summertime, the ice cream is an absolute must-have, and if you time it right, this place also hosts children's workshops where your kids can make their own desserts!
8. Skopje, Macedonia
Located on the Balkan Peninsula, Macedonia is very old land indeed, dating back to 808 BC! In fact, the capital city, Skopje is itself well over seven thousand years old. It couldn't not be part of our list of top non-touristy destinations. As you might expect, this place is absolutely teeming with history and unforgettable architecture, yet you might be surprised to learn that there's plenty for your little ones to enjoy here as well. Skopje is home to several impressive museums that are rather uncrowded, so you'll have the entire place to yourself. Isn't this the best part of non-touristy destinations? This means that your kids are free to move around, and you don't have to worry if they make a little bit of noise. There's also a zoo that's well worth a visit! In fact, the city itself is generally among the most worth non-toursity destinations to go to with children as it allows you to see a piece of Eastern European history at its most authentic.
The bustling main square offers a light and water show that's ideal for your kids to cool off during summer. A visit to the oldest bazaar in the Balkans is a must-see as well, complete with plenty of little shops and opportunities to stop and grab a snack and drink. If you're up for a day trip, you can visit Matka Canyon. It has everything from ancient monasteries to bountiful wildlife, including over seventy different species of butterflies.
Where to Stay
Bushi Resort and Spa: This reasonably priced, kid-friendly hotel is located in the old bazaar area. It offers a gorgeous terrace, garden views and spacious, clean rooms. There's also a swimming pool and hot tub for soaking, and an on-site restaurant offering breakfast, lunch and dinner.
Where to Eat
Forza Wine Bar and Restaurant: This place is classy enough to satisfy mom and dad's urge for a nice dinner out, yet still down-to-earth and kid friendly enough that the little ones also enjoy the experience. There's a large playground just across the street, so your kids can run around freely before settling into a meal. The menu is ever-changing and decidedly Italian in influence, with plenty of kid-friendly options.
9. Tallinn, Estonia
When you think of places to take a family vacation, Estonia probably isn't the first place that comes to mind. It's actually among the most non-touristy destinations in the whole of Europe Not only incredibly family-friendly; but the capital city of Tallinn is absolutely unforgettable, with its well preserved medieval architecture. There are a number of wonderful museums to visit including the Seaplane Harbour. It offers your kids the opportunity to fire a torpedo or tour a submarine. There's also a great playground on-premise for younger kids as well. For more hands-on fun, you can visit the Energy Discovery Centre, which teaches your kids about science, weather, outer space and more via fun, interactive displays. There are plenty of buildings to explore, but perhaps the most fun is taking a ride up the TV Tower. It's the country's highest tower to catch a glimpse of the city below that's like no other.
Where to Stay
Tallinn Viimsi Spa Hotel and Aquapark: While this place is a little pricey, there's so much to do that you might be tempted to never leave! Of course, the biggest family attraction here is the on-site waterpark which boasts eight different slides and a wave pool. There's also a children's centre, pool and jacuzzi to enjoy as well. The rooms are large enough to comfortably accommodate a family of four, and there's an excellent restaurant as well.
Where to Eat
Peppersack: This medieval-themed restaurant is perfect for kids. Located next to the Town Hall, there's plentiful high chairs, friendly servers and coloring books galore. They offer breakfast, lunch and dinner, a kid's menu with plenty of choices, and a delicious dessert menu.
10. Tampa, Florida
Tampa is a city along the Florida coast that's a rather unpopular tourist destination unlike its neighbors, Orlando and Miami. However, this city still makes the list of the best non-touristy destinations. It's a wonderful place to visit with small kids, with plenty of things to see and do. You can spend the day in one of Tampa's many beautiful beaches, or strolling along the picturesque boardwalk. If you're looking for something a little more educational, you can take your kids either to the aquarium or zoo. They both offer interactive activities and plenty of animals to delight visitors of all ages. Busch Gardens is an awesome, animal-themed amusement park for kids of all ages with everything from roller coasters and water rides.
If you still haven't got enough fun, Adventure Island is a waterpark that offers something for everyone. You can also visit the Botanical Gardens free of charge, or go to the manatee viewing station to catch a glimpse of some of the most unique animals in the area. Do the kids need to release some excess energy? Let them loose in the Bounce House Place (exactly what it sounds like,) or at the Grazer Children's Museum. It makes learning so much fun they won't even notice!
Where to Stay
Embassy Suites: This place offers two-room suites which are ideal for families, as there's both a master bedroom and a couch bed available, along with with simple kitchen equipment like a microwave and mini-fridge. Every morning, there's an impressive complimentary breakfast spread. At night, mom and dad can have a relaxing cocktail during happy hour while the kids enjoy yummy snacks. There's also an outdoor pool and hot tub for splashing around, and free WiFi in all rooms.
Where to Eat
Goody Goody Burger: This family-friendly establishment has been around since 1926, and offers an upbeat environment. Their attentive service gladly distracts your kids while they wait for their meals. You can get breakfast all day, but what makes this restaurant stand out, as you might imagine, is burgers. You can get them as simple or dressed up as you want, so there's sure to please every family member.
11. Vancouver, Canada
Although this capital city of British Columbia is one of the most densely populated in Canada, it's still among the best non-touristy destinations to visit with small children. Remarkably clean, there's a number of beautiful parks with swings and other playground equipment for your little one. You can easily spend a whole day at Stanley Park, as there is so much to see and do. Kids love to view the wildlife at the Aquarium, and you can explore various nature pathways stroller and little-leg friendly. During the warmer months, your kids can cool off in the waterpark or outdoor pool, and there's even a small train that gives rides around the park at regular intervals. Kitsilano Beach is also a great place for the day; with a beautiful sandy beach with bathrooms and changing areas. If your kid isn't a fan of the sand, there's also an amazing playground and Olympic sized swimming pool too. For a more complete picture of things to do with small children in Vancouver, be sure to check out our post, Top Ten Things to do with Kids in Vancouver.
Where to Stay
Westin Grand Vancouver: This moderately priced hotel has spacious, clean rooms equipped with kitchenettes. It's a huge help for saving money by allowing you to prepare nutritious meals comfortably from your own room. There's also an outdoor heated pool, and the staff is wonderfully accommodating to children. They even present them with a small gift upon check-in. The on-site restaurant is also a convenient option for breakfast, lunch and dinners, with a number of kid-friendly items, including crispy chicken and broccoli bites.
Where to Eat
For an in-depth list of dining options, be sure to read our post Top Ten Best Baby and Kid Friendly Restaurants in Vancouver
Bells and Whistles: This place is sure to be a hit with the entire family, as you don't have to worry about your kids getting bored while they're waiting for their meals. Not only does the kids menu have a plethora of activities for them, but there's also a number of games like skee-ball, basketball and plenty of more. The menu many appealing choices for people of all ages as well, including popcorn shrimp and pretzel bites. They also have a wide selection of everything from salads and lettuce wraps to burgers and hearty club sandwiches.
12. Zagreb, Croatia
Croatia is one of the most beautiful non-touristy destinations, and its capital city is certainly no exception. Besides impressive architecture and picturesque streets, it also has a lot of different things to see and do with children. The city is remarkably walkable, and you can easily see most of what there is to see on foot. King Tomislav Square is located near a park, and the large fountain has plenty of soft grass surrounding it. This is a great spot to simply relax and watch the people go by, and your kids can stretch their legs at the same time. You can easily spend an hour or so exploring the Dolac Market, an open-air market with multiple stalls. They offer everything from souvenirs and sweets to fresh produce and excellent street food choices.
There's a funicular that's a big hit. It connects the upper and lower parts of the city and provides a great view of the lower town's buildings colorful roofs. You will find plenty of small playgrounds which are quite clean, along with a modest, yet still-well-worth visiting zoo. The botanical gardens are great for an afternoon stroll; even the smallest children find the surrounding beautiful vegetation fascinating. For more in-depth information, be sure to read our post Ultimate Itinerary and Things to Do in Zagreb with Kids
Where to Stay
Palace Hotel: This beautiful hotel has an impressive, castle-like appearance, and while it certainly has some classy touches, it's still remarkably affordable. It's a great choice for families. Located just outside of the main square, you get nice views from many rooms, and there's plenty of space for everyone. There's even an on-site restaurant that offers some excellent choices in Croatian cuisine.
Where to Eat
Eggspress: A great spot for catching brunch. This laid-back, sparkling clean eatery has friendly, attentive staff and a vibe that is both kid and pet- friendly. As the name implies, the emphasis here is on eggs, and they do them just about any way you can imagine. From simple scrambled to benedict to mixed with only the best ingredients in a classic omelet.
We love visiting non-touristy destinations. They somehow take traveling to a whole new level, by bringing a unique way of looking at the world. We hope our list of non-touristy travel destinations is useful for your family! Let us know in the comments if you've found a hidden gem somewhere in the world that you'd add to the list.